About Aemetis
Aemetis is an advanced renewable fuels and biochemicals company that commercializes innovative technologies to replace traditional fossil fuels. Founded in Cupertino, CA in 2006, their mission is to generate sustainable and innovative renewable fuel solutions that benefit communities and restore our environment.

The Problem
Dairy manure, when left to decompose naturally, can contribute massive methane emissions to our atmosphere. In fact, about 25% of the methane emissions in California are emitted from dairy waste lagoons.
This can cause major environmental concerns if not dealt with properly, including contributing to climate change, degrading local water resources and loss of ecologically important areas, such as prairies, wetlands and forests.
The Solution
Aemetis deployed one of the largest connected networks of methane digesters at dairy farms in central California to combat environmental impacts. Methane digesters promote the decomposition of organic matter, including animal manure, food wastes and wastewater biosolids, into renewable fuels to replace petroleum products. The company created the Aemetis Biogas Central Dairy Digester Project, a collection of anerobic digesters at dairy farm lagoons that utilize waste animal manure to generate renewable methane gas to pro-duce renewable natural gas (RNG).
Aemetis turned to GCL to help with long-term financing for their vision. GCL coordinated a $25 million loan through the USDA Rural Energy for America Program (REAP) to help develop and build dairy biogas digesters and a biogas pipeline in Stanislaus County, California.
The first phase of the project – six dairy biogas digesters – will be connected via pipeline to the Aemetis Keyes ethanol plant, where the biogas will be converted into a low-carbon transportation fuel. Pacific Gas & Electric Company (PG&E) will deliver the fuel via gas pipeline throughout California for sale to customers.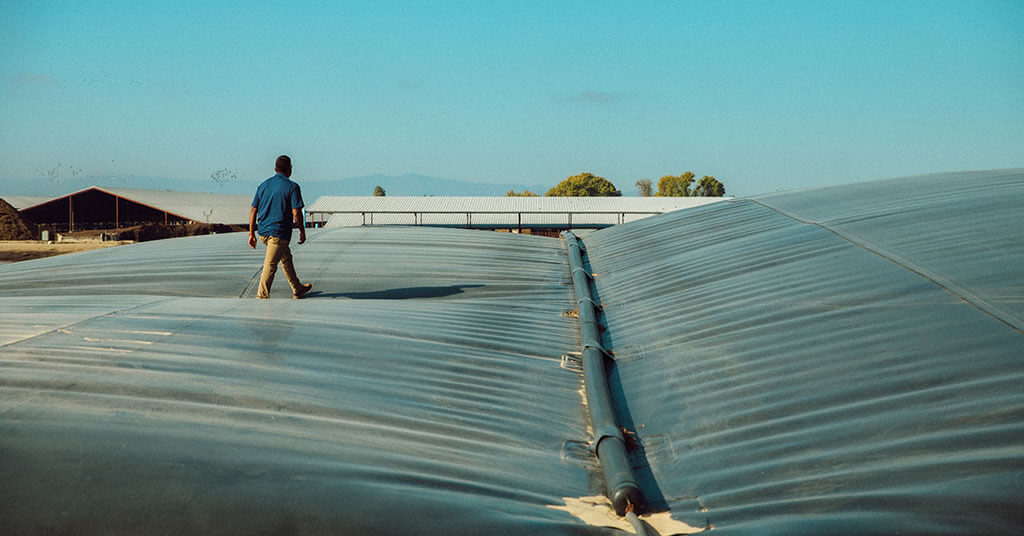 USDA Rural Energy for America Program (REAP)
The Outcome
When fully built and completed, the Aemetis Biogas Central Dairy Digester Project will connect dairy digesters spanning 66 dairy farms across a 40-mile pipeline, capturing more than 1.65MMBtu of methane each year.
The project is designed to reduce greenhouse gas emissions equivalent to an estimated 6.8 million metric tonnes of carbon dioxide over 10 years, equal to removing the emissions from approximately 150,000 cars per year.